Biggie`s one of my favorite emcees, not quite my favorite but he`s definitely up there at the top of the list. Anyway back on March 7th I had originally planned on postin` up something to commemorate the 11th Anniversary of Biggie`s still unsolved murder, but while in the middle of typing out everything my computer crashed so I never got around to doing it. Honestly though, I`m just a lazy fuck & didn`t feel like typin` it all out again.....LoL, it is what it is what more can I really say? Hopefully I can redeem myself with this post here.....LoL, first up we`ve got DJ Doc Rok`s

"The Biggie Hendrix Experience"

, don`t let the cover~art fool ya this joint`s pretty iLL! I don`t have any favorite tracks yet, I`ve only given it a quick listen. Was BuMP`n it while in the shower...that`s right I`ve got a stereo up in there, makes for some nice relaxin` baths.....LoL, second up is a Biggie tribute track from Canadian emcee Rochester. Flowin` over the

"Juicy"

instrumental he does it...well B.I.G.....LoL, I`m happy about that because I just can`t stand when folkS drop weak~ass dedication/ tribute songs. Ya lose the meaning behind the song when the shit`s wack, that`s just my opinion though. Last up we`ve got a Biggie Memorial Mix put together by Mike Stoan. It`s a 46 minute long mp3 mix, I`m sure we`ve all heard most of the songs included but it`s a good listen regardless, so enjoy `em all...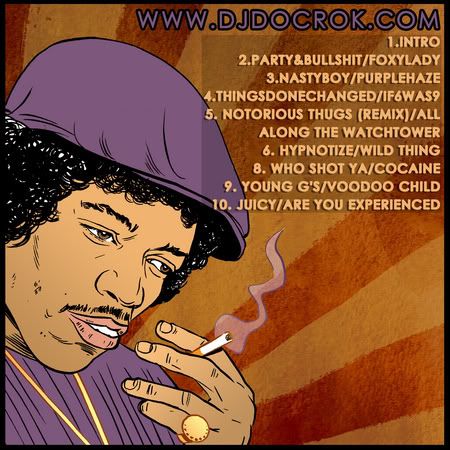 DJ DOC ROK PRESENTS: THE BIGGIE HENDRIX EXPERIENCE
R.I.P. Biggie Smalls
Download here...
DJ Doc Rok presents...
Biggie, the greatest rapper of all time
Jimi Hendrix, the greatest guitarist of all time...
"Truly a deadly combination, I`ve remixed Biggie over tracks sampled from Jimi Hendrix`s timeless classics, the result of which is yours to enjoy (as always) for free..."
More from DJ DOC ROK:
http://www.djdocrok.com
http://www.myspace.com/djdocrok
.....:::::::::::::::::::::::::::::::::::::::::::::::::::::::::::::::::::::::::::::::::::::::::::::::::::::::::::::::::::::::::::::::.....